TRANSFORMING LAWYERS INTO
SUCCESSFUL RAINMAKERS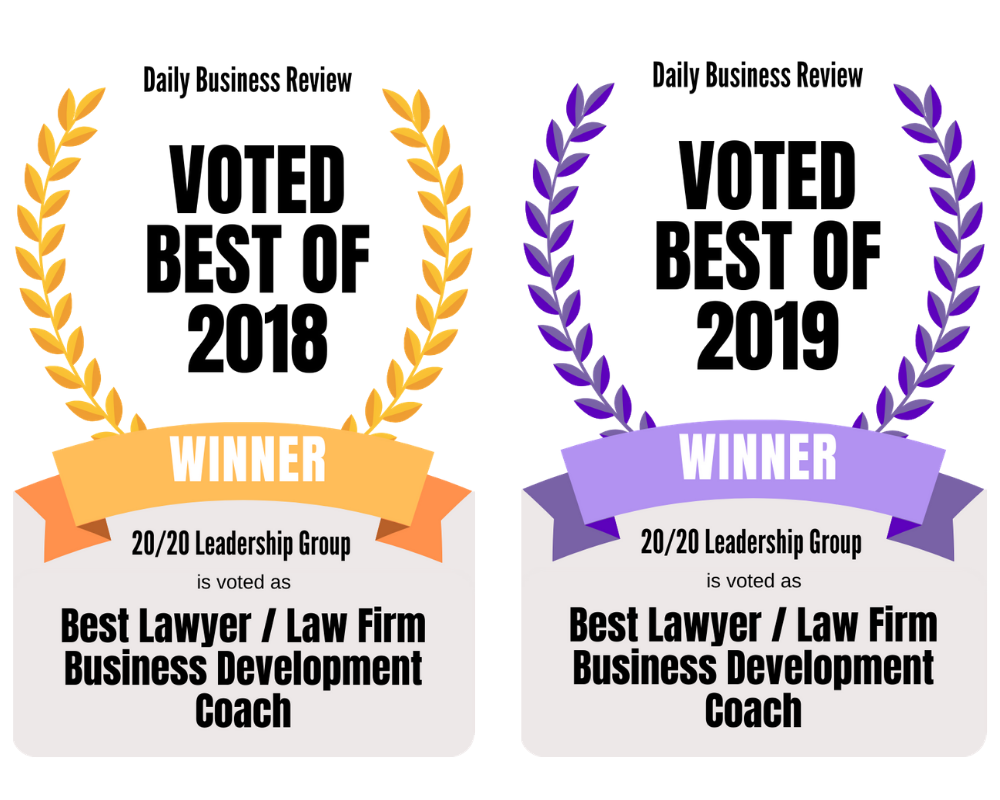 Created by experienced attorneys, seasoned business developers, and certified coaches, the Rainmaking Academy is an online business development program for law firms accessible on-demand, anytime and anywhere.
Featuring 12 online modules loaded with several short 5-10 minute video lessons, tools, templates, and worksheets, your lawyers get to learn every key rainmaking skill on their own schedule!
Created Specifically for Law Firms 
that want to help their attorneys

GET & KEEP MORE OF THEIR IDEAL CLIENTS

BUILD THEIR BOOK OF BUSINESS

MAKE NETWORKING WORK FOR THEM

GET MORE WORK FROM EXISTING CLIENTS
Comprehensive Business Development Curriculum
Includes everything needed to become a successful rainmaker, from start to finish!
Zero prior business, marketing, or sales experience needed.
Each training module is packed with video lessons, action steps, tools, and worksheets.
Module 1:
SET YOUR FOUNDATION FOR SUCCESS
Critical Foundation for Successful Rainmaking and Setting Business Development Goals
Module 2:
ATTRACT YOUR BEST CLIENTS
Proven Strategies to Attract Your IDEAL Clients (Not Just Any Clients)
Module 3:
DISTINGUISH YOURSELF FROM THE CROWD
How to Distinguish Yourself from Others & Boost Your Credibility
Module 4:
MAKE NETWORKING WORK FOR YOU
How to Strategically Network Like a Pro (What To Do Before, During, and After Networking)
Module 5:
BUILD PROFITABLE RELATIONSHIPS
Transformative Relationship Building Process to Turn Your Contacts into Profitable Relationships
Module 6:
SAVVY & SUBTLE SELF-PROMOTION
Strategies for Savvy and Subtle Self-Promotion to Effectively Market Your Expertise
Module 7:
RAINMAKING COMMUNICATION
Advanced Communication Tips and Techniques for Effective Rainmaking Conversations
Module 8:
STRATEGIES TO MASTER THE "ASK"
Effective Strategies to Ask for Business without Feeling Salesy, Pushy, or Uncomfortable
Module 9:
CREATE A PROCESS TO WIN THE WORK
Develop a Personalized Step-by-Step Business Development Process that Works for You
Module 10:
RETAIN YOUR CLIENTS LONGER
What Makes Clients Stay, Pay & Refer & How to Get More Work from Existing Clients
Module 11:
LEVERAGE LINKEDIN & SOCIAL MEDIA
Get the Most Out of LinkedIn and Other Social Media Platforms
Module 12:
DESIGN YOUR RAINMAKING ROADMAP
How to Create an Ongoing Rock-Solid Rainmaking Action Plan
Program Features
Designed with the busy lawyer in mind, these program features will help attorneys stay focused, on track, and achieving results fast!



Results
These are just some of the outcomes attorneys can look forward to achieving!



"I am thrilled to have just brought in new business representing a Fortune 500 company in several matters!"
"I walked into their business development training 'blind', so to speak, and after having experienced their solid rainmaking curriculum and coaching, now I can see.  The sessions are high impact, game changing learning experiences for lawyers like me trying to effectively broaden my network and generate business.  I am thrilled to have just brought in new business representing a Fortune 500 company in several matters!"
– Craig Salner, Esq. | Partner,  Clarke Silverglate, P.A.
---
"I got two new business clients!"
"After doing just one of the relationship building exercises, I got two new business clients!"
– Tammi Calarco, Esq. | Founding Partner, Tammi A. Calarco, P.A.
---
"My biz dev efforts have changed drastically, resulting in new clients, new referral sources and new work from existing clients."
"Since working with the 20/20 Leadership Group, my biz dev efforts have changed drastically, resulting in new clients, new referral sources and new work from existing clients. It wasn't until I started working with them that I learned how much strategy, psychology and skills are actually involved in doing networking, follow-up and relationship building the right way. 20/20 Leadership Group has been an invaluable resource!"
– Yvenne King, Esq. | Founding Partner, YMK Associates
---
"I'm receiving tremendous value from 20/20 Leadership Group's Rainmaking Academy."
"I'm receiving tremendous value from 20/20 Leadership Group's Rainmaking Academy, and have gained a ton of focus and clarity around my business development goals, prospective clients I want to target, how to approach them, what to say and what to do with them to cultivate relationships that turn into business. In addition to the helpful curriculum, I also learn from other Rainmaking Academy members during the group calls.  I'm thrilled to be part of this wonderful program!"
– Equity Partner, Am Law 50 Firm
"What I found most valuable is how the program helped me change my mindset about business development and I've just brought in my first piece of business to my firm! Not only have they helped me overcome internal obstacles that have held me back in the past, but their strategies and approaches have made goals that once felt overwhelming now doable."
"I was most impressed by how, in the span of an hour, they were able to provide clear and practical strategies on how I could develop my business as a lawyer and strengthen my most important professional relationships."
"As attorneys themselves, Yuliya and Marla offered tangible guidance and strategies that can be implemented right away to develop relationships and clients. I have already started using one of the tips that they taught us and have found that it helps me to more effectively communicate how I can assist potential clients."
"Everything I do now – from choosing which networking events to attend, to who to connect with, to how best to introduce myself and describe my practice areas – has become so much more focused, strategic and productive."
"As any litigator, my practice is quite varied and most of my clients are corporate entities from various industries. Finding new clients has proven to be a challenge as I didn't have a clear strategy on where to meet these prospective clients or how to successfully develop relationships that would lead to business. Marla and Yuliya helped me identify several great corporate niches where I could focus my business development efforts and shared concrete strategies for connecting and building strong and mutually beneficial relationships with contacts and prospective clients. Thank you!"
"I met Yuliya LaRoe and Marla Grant at a workshop they led on business development for women lawyers. I was really impressed by what they shared and decided to hire them to help me grow my practice. In the six months of working with Yuliya as my coach my networking efforts became much more strategic, I got several client referrals, and also negotiated a substantial raise to my salary and a commission-based component that rewards me for bringing new cases. This is the first time in my life that I feel so confident, reenergized and financially secure! Thank you ladies!"
Faculty
As experienced attorneys and certified business development and
leadership coaches, the Rainmaking Academy creators bring years of industry experience and coaching expertise.
Yuliya LaRoe, JD, CPC
Business Development Coach
As a certified coach and experienced attorney and business developer, Yuliya transforms lawyers who have little or no business or leadership experience into successful rainmakers and effective leaders. Using a proprietary Rainmaking Success Framework and time-tested methodologies, Yuliya helps lawyers engage high-level business and corporate clients by developing a systematic approach that is based on their unique leadership and rainmaking behavioral profile. Prior to helping lawyers, Yuliya practiced law at an Am Law 100 firm for nearly 10 years as counsel for numerous Fortune 500 Companies, including Cisco Systems, Halliburton, Herbalife, and others. Yuliya holds a law degree from USC Law School and is credentialed as a Certified Professional Coach through the Institute for Professional Excellence in Coaching.
Marla Grant, Esq., CEC

Business Development Coach
As a certified coach, experienced attorney and former division Vice President of a global company, Marla helps lawyers become successful business developers and exceptional leaders and accelerate their career growth. She has successfully transitioned into leadership and been in the business of relationship building throughout her professional career. After a successful career as a litigator, she became a division Vice President of a leading global technology provider where she oversaw client retention through strategic relationship management. She later transitioned out of management to help lawyers maximize their success as business developers and leaders. She holds a law degree from Boston University School of Law and is certified as an Executive Coach through the Center for Executive Coaching.